Stone Veneers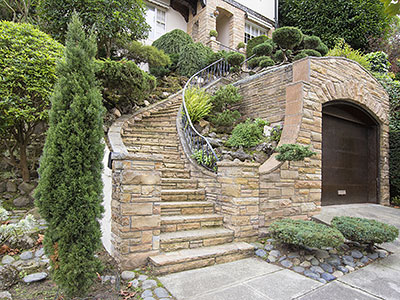 Natural stone has a timeless appeal, but its installation can be time-consuming and challenging due to its weight. Moreover, natural stone tends to be more expensive than brick and concrete materials. This is where stone veneer comes in as a fantastic alternative. At Northeast Stonescapes, Inc. in Hingham, MA, we specialize in delivering top-quality stone veneer installations.


What Are Stone Veneers?
Stone veneers are lightweight, thin slices of natural or manufactured stone that mimic the appearance of full-sized stone. They offer the beauty and elegance of natural stone while being more affordable, versatile, and easier to work with. Stone veneers are crafted to replicate the textures, colors, and patterns in natural stone, providing a stunning and realistic look.

The versatility of stone veneer is one of its most significant advantages. It can be used in various applications, both indoors and outdoors, to enhance the aesthetic appeal of any space. Exterior applications include improving the façade of residential and commercial buildings, accentuating columns, creating striking entranceways, beautifying outdoor fireplaces and grills, and other creative design features. The possibilities are truly endless when it comes to incorporating stone veneer into your project.


Stone Veneer Benefits
There are several benefits to installing stone veneers on various outdoor masonry surfaces, such as:


Cost-Effective - Stone veneer provides a cost-effective alternative to natural stone, allowing you to achieve the luxurious look of stone within your budget.


Lightweight and Easy to Install - Unlike natural stone, stone veneers are light and easier to handle during installation. This makes the installation quicker and more efficient, saving time and labor costs.


Versatile Design Options - With a wide range of colors, textures, and patterns, stone veneers offer countless design possibilities. You can select the perfect veneer style that matches your aesthetic preferences and complements the existing architecture.


Durability and Longevity - Stone veneers are designed to withstand the elements and have excellent durability. They are resistant to fading, cracking, and other forms of damage, ensuring a long-lasting and low-maintenance solution for your project.


Enhances Property Value - Adding stone veneer can significantly improve your property's curb appeal and value. The classic and sophisticated look of the stone veneer creates an inviting atmosphere that attracts attention and leaves a lasting impression.


Energy Efficient - Stone veneers can contribute to improved energy efficiency by adding layer of insulation to the exterior of buildings. This can help reduce energy consumption and lower utility costs.


Our experienced team of professionals is dedicated to delivering exceptional craftsmanship and ensuring customer satisfaction. We work closely with our clients to understand their vision and requirements, offering expert advice and guidance.


Cost-Effective Stone Veneer Installations
We are deeply committed to providing value to our clients, and our experienced team looks forward to collaborating with you on your next project. Don't hesitate to contact us and start the journey toward transforming your space with our exceptional stone veneer installations.

Submitting your requests and inquiries about our stone veneer installations is quick and easy through our Online Form. Rest assured that once you submit your information, one of our dedicated team members will promptly contact you to discuss your specific requirements. Whether you have large-scale or small-scale masonry projects, we are here to assist you every step of the way.