Paver Driveways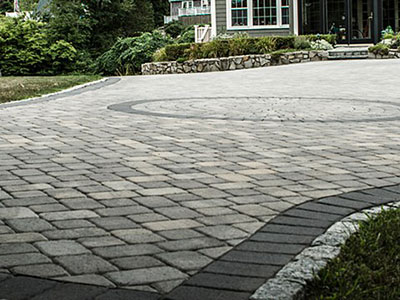 The driveway is a crucial element of residential and commercial properties. It serves as the first impression for guests, visitors, and customers, making it essential to design and organize it carefully. A well-designed, attractive, and practical driveway can significantly enhance the value of your property. At Northeast Stonescapes, Inc., based in Hingham, MA, we are local hardscaping services experts specializing in paver driveway design and installation.


Benefits of Paver Driveways
Our company has a proven track record of expertise in paver installation, and we offer creative and high-quality paver driveway installations for residential and commercial properties. Choosing a paver driveway comes with numerous benefits -


Durability - Pavers are a long-lasting investment as they withstand years of foot traffic and harsh weather conditions.
Versatility - Pavers are available in various dimensions and hues, allowing endless aesthetic combinations to suit your preferences.
Easy maintenance - In case of damage, pavers can be easily replaced, making maintenance and repairs hassle-free.
Grip and safety - Pavers offer high levels of grip, making them a reliable choice for driveways, ensuring safety for vehicles and pedestrians.
Environmental friendliness - Paver stones are eco-friendly as they are made from recyclable materials and can be recycled or repurposed.
Enhanced curb appeal - Pavers significantly improve your driveway's curb appeal, thereby increasing your property's value.
Longevity - Pavers are a worthwhile investment as they require minimal upkeep and can endure for decades.
Versatility - Pavers can be used for various outdoor features and are not limited to flooring applications.
Customized Paver Driveway Installations
We understand that each property and its surrounding landscape are unique. That's why we offer customized driveway design and installation services tailored to each customer. Our experienced professionals will consult with you to understand your specific needs and based on a comprehensive site study considering factors like drainage, slope, and usage, we will provide you with design ideas that work well for your property.


Cost-Effective Residential and Commercial Paver Driveways
Our trained staff only works with the finest materials and employs time-tested methods to construct your unique driveway, ensuring its longevity, beauty, and increased property value. Our commitment to individualized service means we can design and build a paver driveway that perfectly suits your needs and enhances the overall appeal of your property.

Whether it's a new installation, replacement, or upgrade, we have the expertise to handle projects of any scope and scale. To learn more about our paver driveway and other hardscaping services, contact us at (617) 947-3543. Our team is ready to provide the necessary information, guide you, and provide all the information you need.

You can conveniently submit your requests and inquiries through our Online Form. Rest assured, one of our dedicated team members will promptly contact you to discuss your specific requirements. Whether you have big or small masonry projects, we are here to assist you every step of the way. We are committed to offering our clients value, and our team looks forward to working with you on your next project.