Landscape & Hardscapes in Cohasset, MA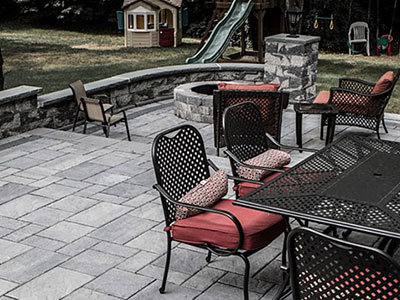 Northeast Stonescapes, Inc. is a well-recognized hardscaping and landscape design company serving Cohasset, MA, and the surrounding areas. With our reputation for creating high-quality, unique structures, we have established ourselves as a trusted and respected business. Our commitment to exceptional service sets us apart, and we strive to provide our customers with the best combination of dependability, quality, and competitive pricing.

We offer end-to-end landscaping solutions to meet your outdoor needs. Whether starting from scratch with a new hardscape design or looking to enhance your existing space with a new deck, patio, or walkway, our experienced team is here to assist you.

Our team understands the importance of choosing the suitable materials, building sturdy retaining walls, and creating visually appealing outdoor spaces. Our comprehensive approach ensures that your commercial or residential property will be functional, durable, and easy to maintain.


Variety of Landscape and Hardscape Services
Our range of landscaping and hardscaping services is designed to cater to the diverse needs of our commercial and residential customers and includes:


We specialize in hardscape and landscaping designs and installations, creating stunning outdoor spaces that blend seamlessly with the natural surroundings.
From landscape lighting that enhances the beauty of your property to outdoor kitchens that elevate your outdoor entertaining experience, we have you covered.
Our expertise extends to building paver patios, decks, and walkways, adding functionality and aesthetic appeal to your outdoor area.
We are skilled in constructing retaining walls that serve a practical purpose and enhance the overall design.
Additionally, we create inviting outdoor living spaces, complete with fireplaces and fire pits, where you can relax and unwind.
Our stone veneer installation expertise ensures you receive the highest quality craftsmanship and attention to detail.
For those seeking to enhance their outdoor entertainment experience, we offer outdoor audio and visual installations to create the perfect ambiance.
How We Excel in The Landscaping Space
Our commitment to providing customized services with meticulous attention to detail sets us apart. We understand that each project is unique and take the time to understand your specific requirements and preferences.

Our team of experts works closely with you to design and implement a solution that aligns with your vision and exceeds your expectations. We believe in the value of our work, so we offer warranties on our projects, giving you peace of mind and ensuring the longevity and quality of our craftsmanship.

When you choose us, you can expect a seamless and stress-free experience from start to finish. Our team of dedicated professionals is passionate about what they do and is committed to delivering outstanding results. We take pride in our work and strive to create outdoor spaces that enhance the beauty and value of your property and provide a place for you to enjoy and create lasting memories.

We understand that every project is unique, and we are committed to providing customized solutions tailored to your needs. Whether you want to enhance your home's exterior or add a touch of elegance to your commercial space, our team has the knowledge and experience to bring your vision to life.


Proven Landscape Specialists
With Northeast Stonescapes, Inc., you can trust that your landscape and outdoor living projects are in capable hands. We have the skills, resources, and dedication to deliver exceptional results, no matter the scale or complexity of the project in Cohasset, MA. We will work closely with you from concept to completion to ensure your expectations are met and exceeded.

Don't hesitate to contact us through our Online Form. to get started on your stone veneer installation project. We are excited to collaborate with you and provide the guidance and expertise to create stunning and durable masonry work. Let us transform your space into a work of art you can enjoy for years.