Landscape Lighting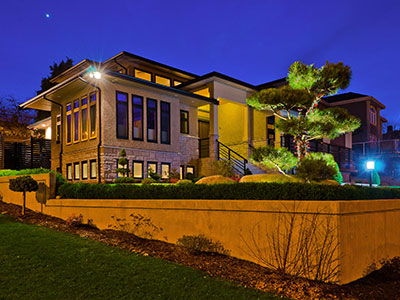 Every landscape setting will benefit in so many ways with the addition of landscape lighting. Northeast Stonescapes offers great landscape lighting design and installation services to our residential and commercial clients throughout Boston, MA. We specialize in professional design, installation, and maintenance of all types of outdoor lighting fixtures.

Our professional team has extensive knowledge when it comes to landscape lighting concepts and schemes. We will custom design a lighting scheme that will fit the requirements of your particular property. Let us brighten up your landscapes and show it off after the sun goes down!


Types of Landscape Lights
The team at Northeast Stonescapes will assess the needs of your landscapes and come up with a lighting scheme that will achieve all you wanted and more. Landscape lighting is often installed for a variety of reason; sometimes it is for pure visual appeal and for others it for security and safety. No matter your reasons are we will guide you in the right direction.

One of the most popular types of landscape lights used today is solar lights. A solar light can add beauty and charm to any outdoor area while saving you money and reducing your energy consumption. The other attractive feature is that they are very easy to install and to maintain; as long as they get direct sunlight they will come to life at night.

Another popular landscape light used today is the low-voltage light. These types of lights are great for creating some real ambiance in your landscape setting while highlighting those special features like old trees, statues and water features. Northeast Stonescapes will advise you on the best type of lights for your specific application.


Landscape Lighting Designs
Our professional lighting team has all the experience and knowledge necessary to give you a stylish and modern lighting scheme. There are many effects, including different colored lights, different wattage, various angles and a variety of styles of fixtures available. All of these factors go into making your landscape lighting installation unique to your properties needs.

Landscape lighting can really alter and enhance the mood and look of your landscape. We can make your property a safer one by lighting up those darker passages and also make it a safer one by providing light along your walkways and driveways. Trust your lighting in the hands of Northeast Stonescapes to get the job done right!


Professional Landscape Lighting
Hiring a professional landscape lighting company like Northeast Stonescapes will ensure that all standards are met for secure and safe electrical settings. Our outdoor lighting schemes are not only safe and effective but they are also aesthetically pleasing. We will enhance the look of your property at night and make your landscapes the envy of all the neighbors.

Contact Northeast Stonescapes today and we will have a team member assist you with every step of your landscape lighting design and installation. Call us today and we will give you a free consultation!