Pavers
Olde Colonial Cobble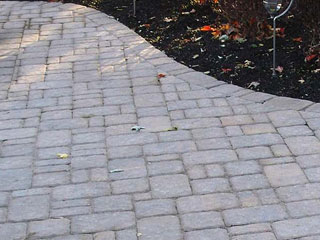 Classic Collection

Olde Colonial Cobble® provides the rustic charm of traditional New England stonework, offered in natural earthtone blends. Created in modular stone dimensions giving you the flexibility to create varied ashlar installation patterns with a granite-like texture.


Specs
3 Piece

7-1/16 x 3-9/16 x 2 3/8
7-1/16 x 7-1/16 x 2 3/8
7-1/16 x 10 1/2 x 2 3/8
All measurements are approximate.
Contact your local Belgard dealer for details.
Colors

Brittany Blend

Danville Blend

Sable Blend

Silex Blend
Patterns

3 Piece Pattern A

3 Piece Pattern B

3 Piece And Large Square

Large Rectangle Running Bond

Large Rectangle 90° Herringbone

Large Rectangle And Square 1 Pattern

Large Rectangle And Square 45° Herringbone Modified